Shrub or small tree to 10-18 ft.
} The weeping Ruby Falls Redbud is beyond compare for color, look, and appeal. With maroon to deep green to purple leaves from spring to fall and lavender spring blooms that sit atop bold red stems, you will be excited for spring to arrive!
But this distinctive weeping redbud is even beautiful in winter with its flowing branches and distinctive habit/5(56). Growing just ' tall with an elegant, weeping habit, this redbud is perfect for small gardens, lawns, woodland gardens or naturalized areas. Attractive red-purple flowers bloom profusely in early spring. Large, heart-shaped leaves add interest through the seasons. Has low pod set.
The large one came with dead black buds that just crumbled off yesterday.
Cercis canadensis 'Ruby Falls' PP #22,Price:Description Noted for its unique weeping habit, Ruby Falls Redbud is a compact, deciduous tree with profuse, pea-like, dark rose flowers that arrive before the foliage on bright red stems.
This cultivar results from the work done at North Carolina State University. The Ruby Falls Weeping Redbud is a small tree, reaching just 6 or 8 feet tall, with long, cascading branches spreading around it to a width of 5 or 6 feet. In very early spring the bare branches are smothered in clusters of small but powerfully-colored fuchsia-red blossoms, and then, when the new leaves first emerge, they are rich purple, turning burgundy through spring, and slowly becoming green /5(22K).
Has large heart shaped deep purple foliage, with dark rose-purple sweet pea like blooms borne on the bare stems in early spring. Ruby Falls has a unique weeping habit that makes it perfect for smaller size yards. Leaves will become green, in the heat of summer and lower light conditions.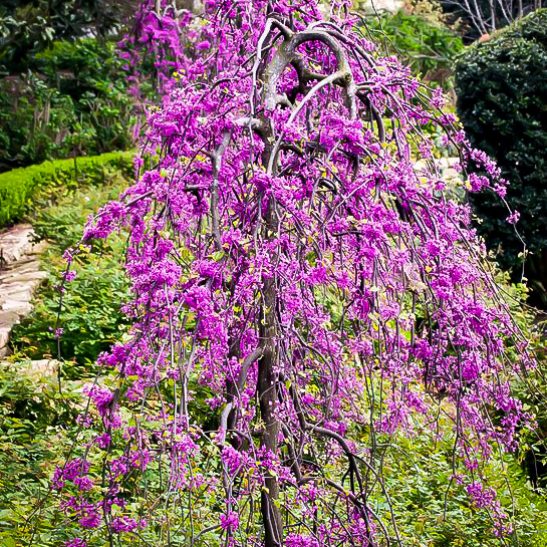 Best color is spring and early summer, in full sun locations. Cercis canadensis 'Ruby Falls' PP This weeping tree has deep purple leaves. Dark rose-purple flowers are borne on the bare stems in early spring. Its unique weeping habit makes it perfect for smaller size yards. Will reach 4 to 6 feet tall and 6 to 8 feet wide. Exposure. Ruby Falls RedbudA COMPACT REDBUD TREE WITH A WEEPING CANOPY THAT ACTS AS THE PERFECT TREE FOR A SMALLER LANDSCAPE. Reddish-pink blooms in spring add a pop of color after the long winter months.